For the Love of Camping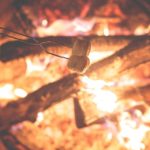 Camping is an escape from the humdrum of everyday living. The best way to unwind is with traditional camp food. Who doesn't love eating a chocolaty ooey gooey s'more? Roasting the perfect marshmallow is a matter of preference. I like mine slow roasted and continuously turned until it's a golden brown. This will give the chocolate enough warmth to melt slightly. Two of my daughters like to scorch them until the sugar turns black. There were times when the marshmallow was burning and blowing on it didn't extinguish the flame. Then the stick flailed back and forth in the air and I crossed my fingers. I didn't want it to end like the scene in the movie with Dennis the Menace and Mr. Wilson.
Camping and People
Whether you are sleeping under the stars, tent or trailer camping meeting new people is exciting. I've met my new neighbors with the icebreaker of asking to borrow a necessity we've forgotten. Usually this happens on the first trip of the year due to removing everything previously for winter storage. Sometimes we've met neighbors under not so good circumstances. The one that comes to mind is when your generator has aggravated their peace and quiet. One of the sweetest moments was the couple who recently said I do. They leaned wooden pallets against their camper with the words painted "Just Married". Overall, the people you meet have the love of camping and there is a great comradery.
Camping and Nature
One of my favorite reasons for camping is nature. We usually camp at county or state parks. All have their unique reasons for setting up your temporary home. Some are close to major attractions like Devil's Lake State Park.  Others are secluded and serene. If you love nature and quiet walks, Madeline Island is one of the finest. Big Eau Pleine Park's whitetail deer aren't shy at all. They like treats and will come so close you can almost touch them. Recently, I enjoyed casting my line in the lake and caught a seven-pound silver catfish. Even though it got away, my five-year-old granddaughter was there to help me tell the tale. If I want to be precise, the fish was likely closer to her age. All good fisherwomen exaggerate a little.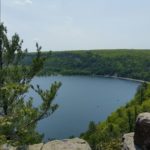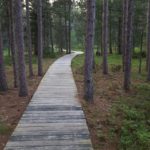 Leave me a message below. I'd love to hear where you like to go camping.
Please follow and like us: